In the run-up to writing Nemesis, I came across a number of other authors who've set their stories in San Diego or penned notable books while they were living here. In doing so, I realized that "America's Finest City" actually boasts a pretty fine literary heritage, more than many people would suspect.
My bucket list of the best books written or set in San Diego is broken into two parts: 1880s to the early 1980s (the first century); and mid-1980s to the present day.
Nemesis and all of these books are available at the usual places online, as well as local bookshops like Warwick's in La Jolla, Mysterious Galaxy in Clairemont, Bookstar in Point Loma, and the various Barnes & Noble branches.
My picks for the best San Diego books published between the 1985 and now are . . . .
San Diego earned more sci-fi cred with this post-apocalyptic yarn that was later made into a Kevin Costner movie. A longtime local resident, Brin moved down the coast from his native LA in the 1970s to attend UCSD and never left. A jack of all trades, he juggles gigs as a NASA consultant, futurist, speaker and writer. Published in 1985, The Postman was one of his earlier works.
"This is the story of a lie that became the most powerful kind of truth. Gordon was a survivor — a wanderer who traded tales for food and shelter in the dark and savage aftermath of a devastating bio-war. Fate touches him one chill winter's day when he borrows the jacket of a long-dead postal worker to protect himself from the cold. The old, worn uniform still has power as a symbol of hope, and with it Gordon begins to weave his greatest tale, of a nation on the road to recovery. The Postman is the dramatically moving saga of a man who rekindled the spirit of America through the power of a dream." — David Brin's website
Born and raised in San Diego, Kuhlken attended San Diego State before playing semi-pro baseball in Tijuana and honing his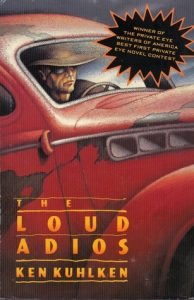 literary skills at the celebrated Iowa Writers' Workshop. Loud Adios — which won a Best First Novel award in 1990 from the Private Eye Writers of America — and other books in his Hickey Family series are mostly set in San Diego, Tijuana, Tucson and Lake Tahoe.
"Private Investigator Tom Hickey, now an army corporal military policeman assigned to the U.S./Mexico border, accompanies Private Clifford Rose to a Tijuana nightclub where Clifford claims they will find his sister Wendy . . . Her captors, Tom discovers, are led by a German occultist and financed by the powerful del Monte family. He comes to believe they are plotting a coup whose purpose is to give the Nazis a base from which to attack San Diego, home of the world's largest military/industrial presence." — Ken Kuhlken's website
If you've ever wondered what the San Diego of the future might be like, this sci-fi tale could quench your curiosity. Set in a 2025 world that's even more high-tech (and mind blowing) than present, the story won a Hugo Award and Locus Award as the world's best sci-fi novel of 2007. From UCSD to the U.S. Marines, Rainbows End puts an innovative spin on various aspects of local life—including a cover illustration that imagines futuristic San Diego.
"As Robert becomes more deeply involved in conspiracy, he is shocked to learn of a radical change planned for the UCSD Geisel Library; all the books there, and worldwide, would cease to physically exist. He and his fellow re-trainees feel compelled to join protests against the change. With forces around the world converging on San Diego, both the conspiracy and the protest climax in a spectacular moment as unique and satisfying as it is unexpected." — Goodreads
This may not be Winslow's most popular book, but it's certainly my favorite — set along the shore in Pacific Beach where I
was born and raised. My brother was the family surfer dude; I was the nerdy kid digging for fossils at Tourmaline Canyon, browsing the tidepools at Bird Rock and trying to spot sharks from the end of Crystal Pier. So Dawn Patrol (published in 2008) summons a lot of youthful memories.
"Boone Daniels lives to surf. Every morning he's out in the break off Pacific Beach with the other members of The Dawn Patrol: four men and one woman as single-minded about surfing as he is . . . But Boone is also obsessed with the unsolved case of a young girl named Rain who was abducted back when he was on the San Diego police force. He blames himself—just as almost everyone in the department does—for not being able to save her . . . Harrowing and funny, righteous and outrageous, The Dawn Patrol is epic macking crunchy from start to finish." — Don Winslow's website
Although most of Jefferson's mysteries are set in LA and Orange County, a move to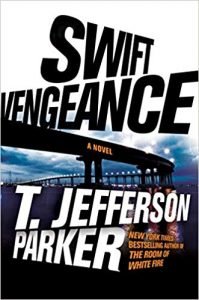 Fallbrook sparked a flurry of books with San Diego as its geographical base. Swift Vengeance (2018) is the latest of those works, the second in a series that features local private eye Roland Ford (as well as the San Diego-Coronado Bridge on the cover).
"Private Investigator Roland Ford is on the trail of a mysterious killer who is beheading CIA drone operators and leaving puzzling clues at each crime scene. His troubled friend Lindsay Rakes is afraid for her own life and the life of her son after a fellow flight crew member is killed in brutal fashion . . . Ford strikes an uneasy alliance with San Diego-based FBI agent Joan Taucher, who is tough as nails but haunted by what she sees as the Bureau's failure to catch the 9/11 terrorists, many of whom spent their last days in her city." — T. Jefferson Parker's website
Nemesis by Joe Yogerst
It would be remiss of me not to add Nemesis to the list. A mix of murder mystery, historical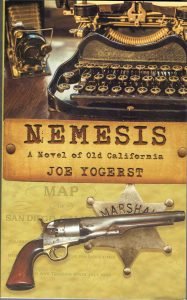 fiction and classic Wild West literature, the story follows U.S. Marshall Cradoc Bradshaw and newspaper reporter Nick Pinder as they race against one another to capture an anonymous killer who's who dispatching the town's movers and shakers in gruesome ways.
"Forget Deadwood, Dodge, and Tombstone, the biggest, baddest boomtown of the 1880s was San Diego, California. The attraction wasn't gold or silver but cheap land, the promise of an oceanfront paradise where it never snows and rarely rains, and the too-good-to-be-true deals offered by local real estate merchants. In the wake of bona-fide settlers came the hucksters, con artists, and snake oil vendors — so many flimflam men (and women) that those duped called the town 'Scam Diego.' Abetting the crime and chaos is the nearby Mexican border, a convenient refuge for the rustlers, ex-Rebels, and banditos who floated back and forth across the unmarked frontier." — Joe's website