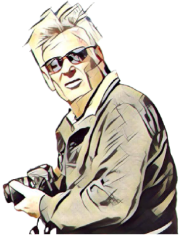 Born and raised in southern California, Joe Yogerst has worked as a writer, editor and photographer on four continents including stints in South Africa, London, Hong Kong and Singapore.
Writer:
His articles on travel, business, culture and sports have appeared in the Washington Post, Los Angeles Times, San Francisco Examiner, International Herald Tribune (Paris), CNN Travel,
USA Today, BBC Travel, TIME, Newsweek, Travel & Leisure, and the magazine of the Royal
Geographical Society (RGS) in London. He's been a contributing editor at both Conde Nast
Traveler and Islands Magazine.
Author:
Yogerst has worked on more than 40 National Geographic Books projects including "50 States 5,000 Ideas (2017)",  the best-selling U.S. travel book over the last four years and as high as No. 4 (behind Stephen King, John Grisham and Michelle Obama) out of all books on Amazon. Among his other bestsellers are "100 Parks, 5,000 Ideas" (2019) and "100 Drives, 5,000 Ideas" (2020).
"Land of Nine Dragons" – his account of a modern-day journey through Vietnam – was named America's Best Travel Book in the Lowell Thomas Awards competition (an accolade Paul Theroux had captured the previous year). "The Long Road South" about his four-month journey along the Pan American Highway between Texas and Argentina was named one of America's top two travel books by the Society of American Travel Writers. His Nat Geo books on Global Cities and US/Canada Camping are being published in 2021. Yogerst is currently working on a children's book on U.S. national parks and a book on the best Hiking Trails in North America. Many of Joe's books can be found here. 
Editor:
His work as a magazine editor includes three years at Age Communications in London
overseeing travel-related magazines distributed in Europe, Africa and the Middle East, and three years as managing editor of Emphasis Publishing in Hong Kong in charge of six Cathay Pacific publications and International Herald Tribune special sections. He was also the English language editor of the Air China and Air Macau inflight magazines.
Fiction:
On the fiction side, Yogerst is the author of "Nemesis," a murder-mystery novel set in 1880s San Diego. As a staff writer at MTM and Steven J. Cannell productions, he developed television movies and wrote episodes of TV shows like "Two" and the long-running "Silk Stalkings" murder-mystery series. He has an ongoing relationship with Craig Anderson Production in Hollywood developing action adventure and sci-fi movies and limited series.