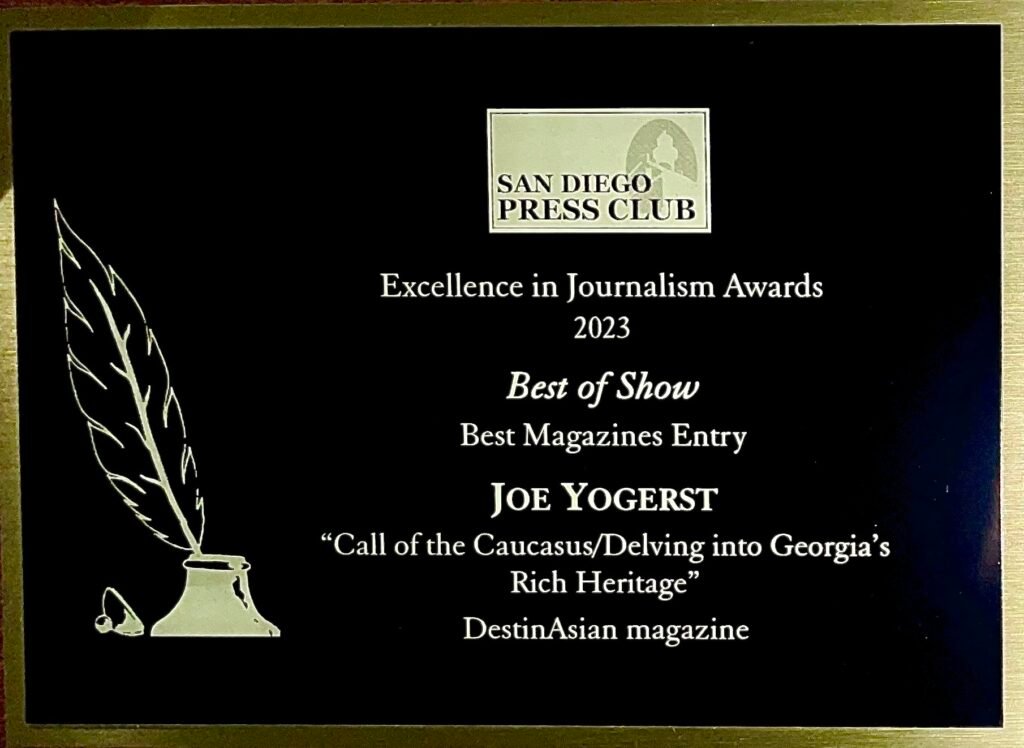 Best of Show 2023
Best Magazine Entry
"Call of the Caucasus"
50th annual San Diego Press Club
---
First Place
Magazines Travel International
DestinAsian Magazine
50th annual San Diego Press Club
---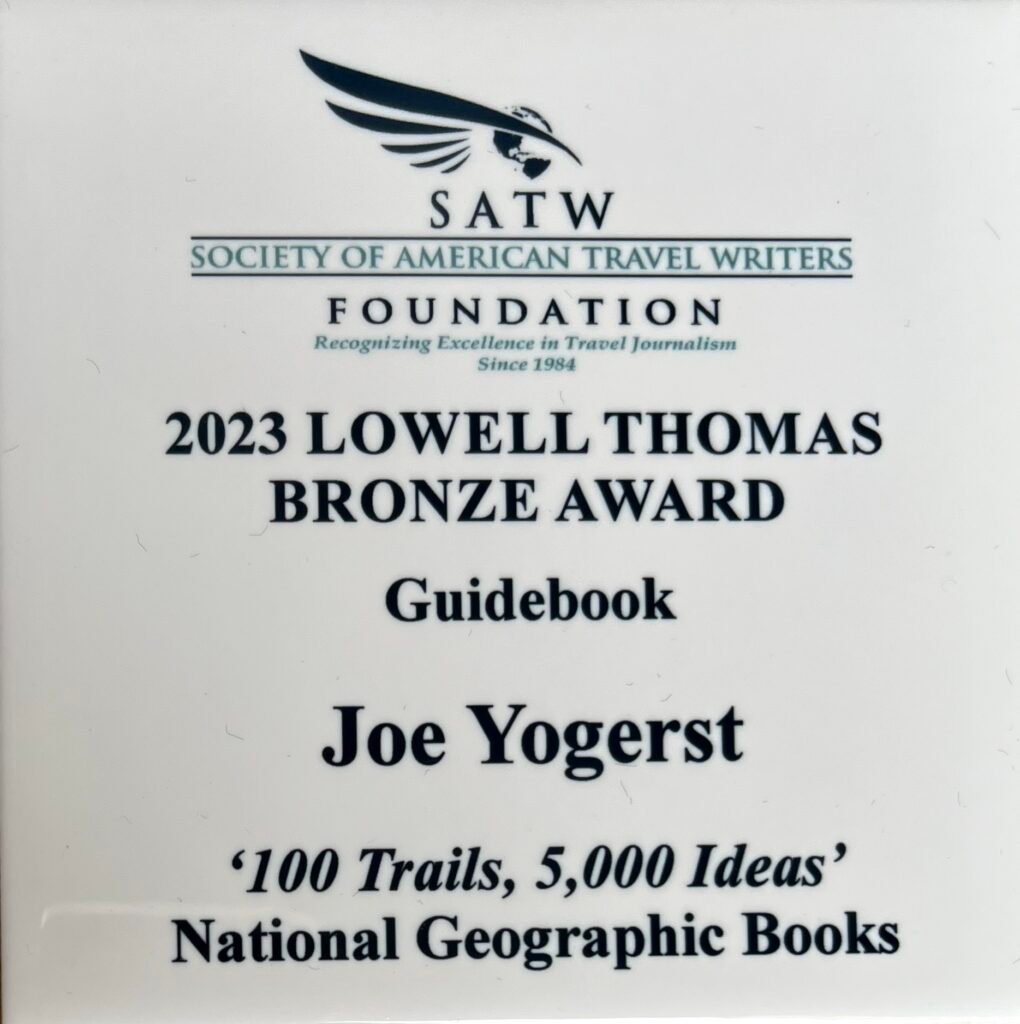 Bronze Award
Guidebook category
Annual Lowell Thomas Awards by the Society of American Travel Writers (SATW).
---
This dazzling culinary guide will reveal the tastiest treats and best food experiences across all 50 states (and Canada), featuring thousands of expert travel tips and hundreds of mouthwatering images from National Geographic.
Available March 19, 2024
---
Grab your passport and get ready to explore 100 cities around the world. This informative travel guide–the next in National Geographic's blockbuster 5,000 Ideas series–takes you from skyscraper-filled concrete jungles to coastal urban oases. You'll find hot tips for the best sights, bites, museums, and more for each location, as well as practical planning advice for when to go and what to expect when you arrive.
---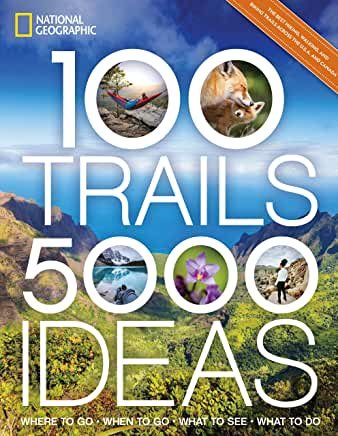 This authoritative travel guide―the next in National Geographic's best-selling 5,000 Ideas series―takes you from the coast of Florida to the peaks of Wyoming on a series of epic hiking and walking adventures. So grab your hiking boots and get ready to explore 100 trails around all 50 states and Canada.
 Now Available. #1 New Release in Hiking and Camping Excursions Guides
---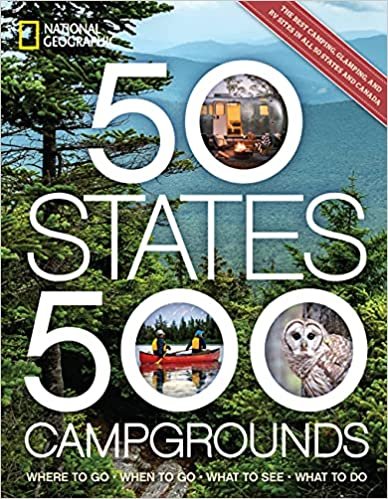 Plan your next getaway to the great outdoors with this one-of-a-kind resource for campgrounds across North America. In this comprehensive sequel to the best-selling 50 States, 5,000 Ideas, you'll discover the top tent and cabin campsites, as well as RV resorts and glamping destinations around the United States and Canada.
# 1 New Release in Parks and Campgrounds Travel Reference
---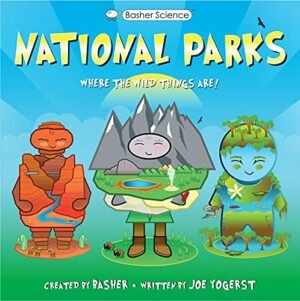 From the high peaks of the Rockies to the lows of Death Valley, from the Statue of Liberty in the East to the redwood forest of the West, and from the panoramic views of the Grand Canyon to getting up close and personal to wildlife in Yellowstone, Basher invites you to take a journey through some of the United States' most spectacular national parks, recreation areas, and preserves.
---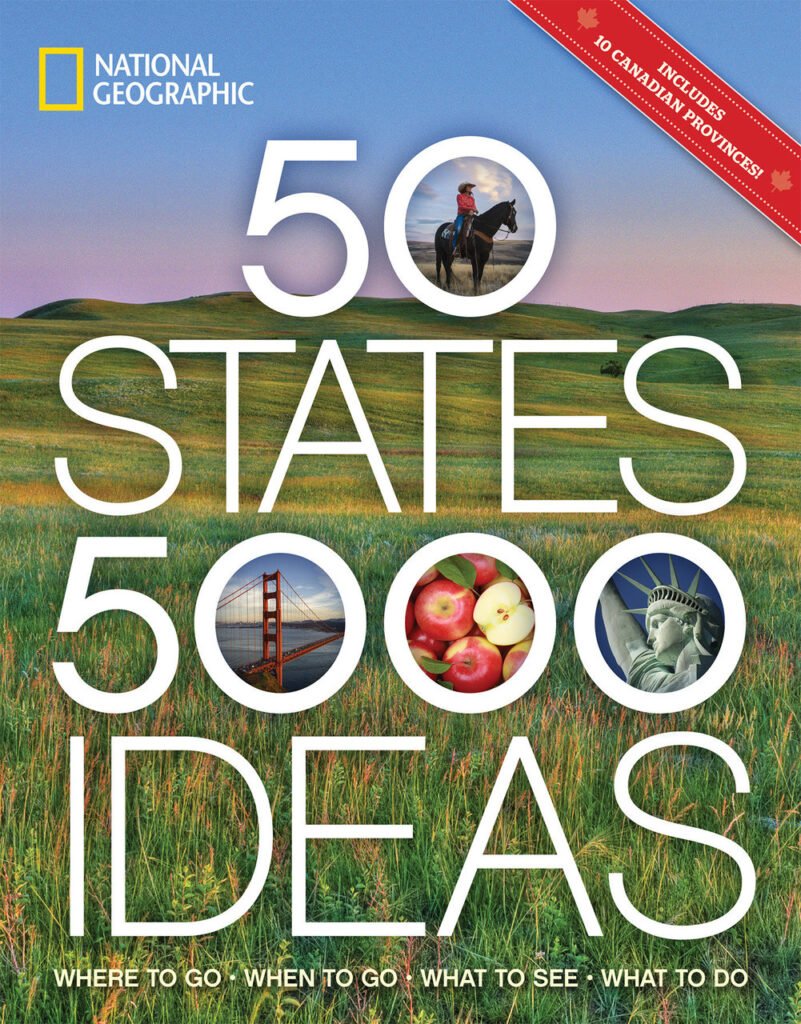 This Richly illustrated book from the travel experts at National Geographic showcases the best travel experience in every state, from the obvious to the unexpected. Sites include national parks, beaches, hotels, Civil War battlefields, duded ranches and more.
America's No. 1 Travel Book
---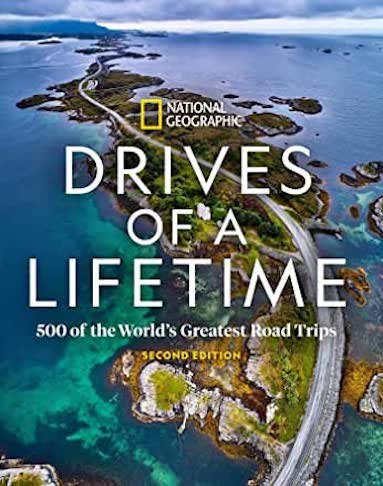 Compiled from the favorite trips of National Geographic's legendary travel writers, Drives of a Lifetime spans the globe to reveal the best celebrated and lesser-known road trips on the planet. Inside this fully updated and revised edition–featuring more than 20 new drives–you'll find routes through spectacular landscapes, ideas for quick getaways,
Now Available
---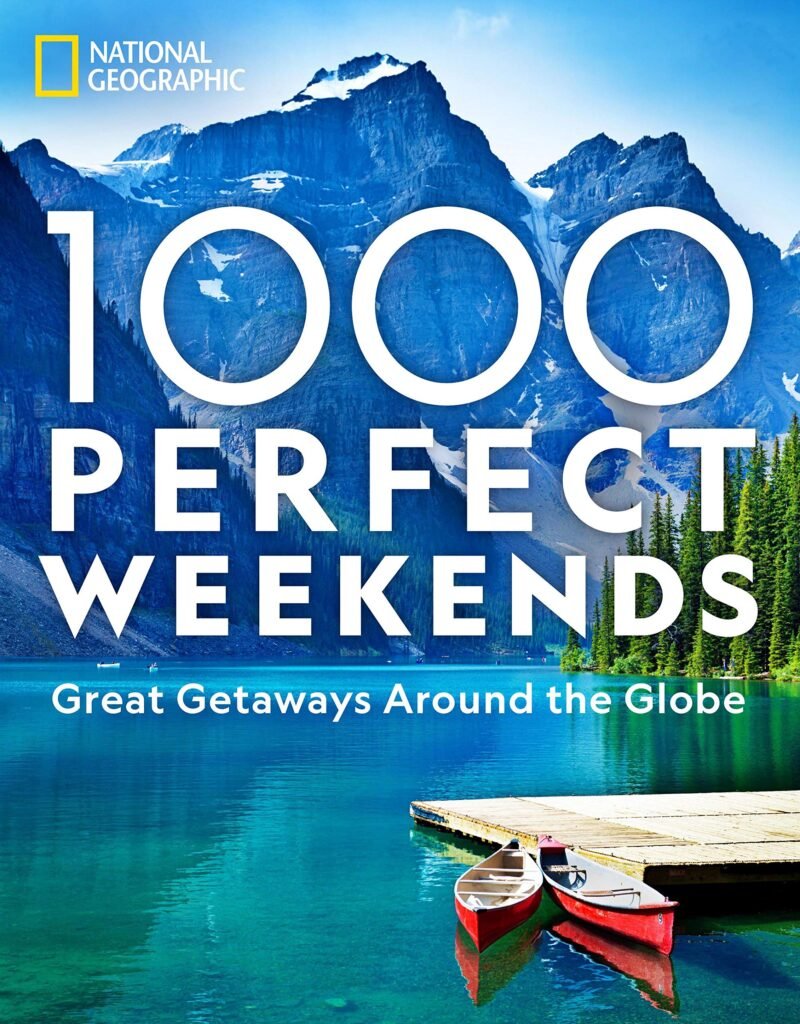 Packed with innovative ideas and inspiring photographs, this gift-worthy treasury features 1,000 dream escapes from sunny beach retreats to lush mountain idylls, exotic city sojourns, and wild adventures around the world.
Now Available
---
National Geographic Yosemite: Through the Backcountry and Beyond Single Issue Magazine
Tour the stunning landscapes of one of America's most iconic national parks. YOSEMITE features the moutons and valley's, rivers and plentiful flora and fauna found in this majestic wilderness.
---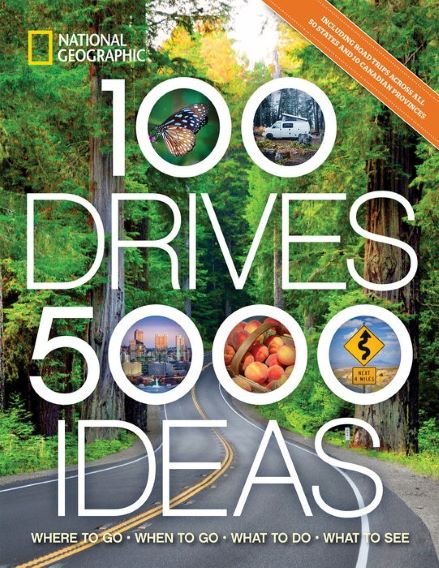 Buckle up for the road trip of a lifetime: 100 eps journeys through all 50 states and 10 Canadian providence offering thousands of site and roadside attractions along the way. A sequel to the best-selling 50 States, 5,000 Ideas.
#1 Best Seller
---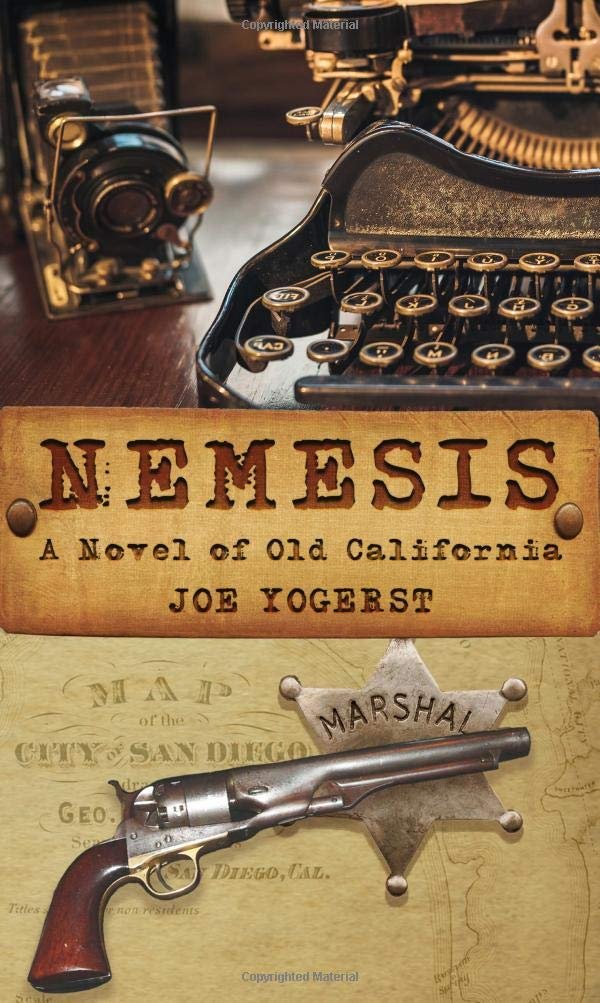 Forget Deadwood, Dodge and Tombstone-the biggest, baddest boomtown of the 1880's was San Diego, California, a rowdy Wild West seaport that attracted dream seekers and scoundrels in equal measure. Caught up in this maelstrom are Marshall Cradoc Bradshaw and reporter Nick Pinder, competing to catch a brutal assassin avenging long-ago crimes that went unpunished.
Buy Here
---
In the sequel to the best-selling 50 States, 5,000 ideas, Joe Yogerst turns to the most pristine and adventure-filled national, state, and city parks in the U.S. and Canada. Showcasing the best experiences, both obvious and unexpected, each entry in this robust guide provides an overview of the park, detailed travel advice, fascinating facts, insider knowledge about wildlife, and expert tips. Filled with beautiful National Geographic photography, this expert guide showcases the best experiences in the top parks throughout North America.
Best Seller
---
From poets and presidents to explorers and eco-warriors, people have long endeavored to describe the sense of awe that the Grand Canyon evokes in all of us. Following in their footsteps, Joe Yogerst takes us on a journey to the South Rim, down into the canyon on the Bright Angel and Kaibab trails, along the Colorado River and then up to the remote North Rim in words complementing by incredible National Geographic photography.