In the run-up to writing Nemesis, I came across a number of other authors who've set their stories in San Diego or penned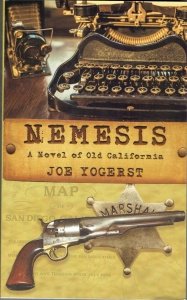 notable books while they were living here. In doing so, I realized that "America's Finest City" actually boasts a pretty fine literary heritage, more than many people would suspect.
My bucket list of the best books written or set in San Diego is broken into two parts: 1880s to the early 1980s (the first century); and mid-1980s to the present day.
Nemesis and all of these books are available at the usual places online, as well as local bookshops like Warwick's in La Jolla, Mysterious Galaxy in Clairemont, Bookstar in Point Loma, and the various Barnes & Noble branches.
And my picks for the best San Diego books published between 1884 and 1981 are . . . .
Ramona by Helen Hunt Jackson
Published in 1884, Jackson's landmark book was written in a New York City hotel room upon her return to the East from a long Southern California sojourn. It brought the region's multicultural heritage to life and helped illuminate the plight of Native Americans in the West. And it's definitely one of the books that my characters in Nemesis would have read. The city of Ramona in San Diego County allegedly owes its name to the novel's popularity.
"One of the greatest ethical novels of the nineteenth century, this is a tale of true love tested. Set in Old California, this powerful narrative richly depicts the life of the fading Spanish order, the oppression of tribal American communities and inevitably, the brutal intrusion of white settlers. Ramona, an illegitimate orphan, grows up as the ward of the overbearing Senora Moreno. But her desire for Alessandro, a Native American, makes her an outcast and fugitive." — Goodreads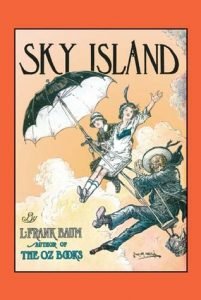 The Oz Series by L. Frank Baum
Flush on profits from The Wonderful Wizard of Oz (published in 1990), Baum began wintering in Coronado in 1904, living with his family at the Hotel Del or various rented houses along the beach. San Diego's seaside environment had a profound impact on several of his books, in particular The Sea Fairies (1911), Sky Island (1912), and The Scarecrow of Oz (1915), all of which are set in locations reminiscent of the Southern California  coast.
"Cap'n Bill and Trot journey to Oz and, with the help of the Scarecrow, the former ruler of Oz, overthrow the villainous King Krewl of Jinxland. Cap'n Bill and Trot had previously appeared in two other novels by Baum, The Sea Fairies and Sky Island. Based in part upon the 1914 silent film, His Majesty, the Scarecrow of Oz. This was allegedly L. Frank Baum's personal favorite Oz book." — Goodreads
Dr Seuss Books by Theodore Geisel
Geisel was already a well-established cartoonist, screenwriter and children's author when he and his wife moved to La Jolla after World War Two. But the books he would write during his San Diego years would make him an American legend, among them The Cat in the Hat (1957), How the Grinch Stole Christmas! (1957), Green Eggs and Ham (1960) and One Fish, Two Fish, Red Fish, Blue Fish (1960). It's always intrigued me that "Dr Seuss" was writing and illustrating these books at his house in La Jolla while I was growing up in nearby Pacific Beach.
"Poor Sally and her brother. It's cold and wet and they're stuck in the house with nothing to do . . . until a giant cat in a hat shows up, transforming the dull day into a madcap adventure and almost wrecking the place in the process! Written by Dr. Seuss in 1957 in response to the concern that "pallid primers [with] abnormally courteous, unnaturally clean boys and girls' were leading to growing illiteracy among children, The Cat in the Hat (the first Random House Beginner Book) changed the way our children learn how to read." — Goodreads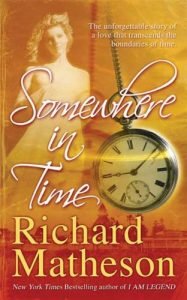 Somewhere In Time by Richard Matheson
Sixty years separate the Wizard of Oz and Coronado's next great literary turn. Originally called Bid Time Return, Matheson's 1975 science fiction classic revolves around an ailing screenwriter who becomes obsessed with a photograph of an 1890's actress while he's convalescing at the Hotel Del. He figures out a way to travel back in time to meet and court the actress, although the reader is never sure if the journey (and love affair) is a product of his cancer-stricken mind or really happened.
"Somewhere in Time is the powerful story of a love that transcends time and space, written by one of the Grand Masters of modern fantasy. Matheson's classic novel tells the moving, romantic story of a modern man whose love for a woman he has never met draws him back in time to a luxury hotel in San Diego in 1896, where he finds his soul mate in the form of a celebrated actress of the previous century. Somewhere in Time won the World Fantasy Award for Best Novel, and the 1979 movie version, starring Christopher Reeve and Jane Seymour, remains a cult classic whose fans continue to hold yearly conventions to this day." — Goodreads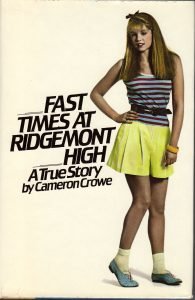 Fast Times At Ridgemont High by Cameron Crowe
Not the teenage passage movie, but the 1981 book that inspired the celebrated Amy Heckerling film. Crowe graduated from San Diego's University High School the year before me — we were both writers on the El Cid student newspaper. But most of the anecdotes and characters in Fast Times are drawn from his stint as an "undercover student" at Clairemont High, where my cousins went to school.
"This is a true story. In the fall of 1979 Cameron Crowe at 22 years of age walked into the office of Principal William Gray's office and asked permission to attend classes for the full length of the school year to research a book he was to write of his experiences inside the walls of [fictional] Ridgemont High . . . This is the day-by-day journal of horny and wasted semi-blank adults who don't know a thing about their future." — Goodreads