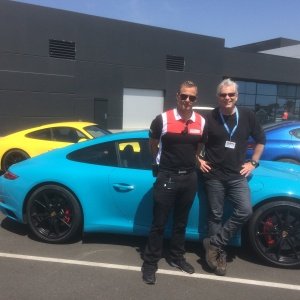 It's grand prix week in Los Angeles. But rather than watching the Indy cars zoom around the street course along the Long Beach waterfront, I'm up the road in Carson, behind the wheel of a Porsche 911 Carrera S hitting speeds approaching a hundred miles per hour. Not on the 405 freeway, mind you (although how I wish). But on the road track of the new Porsche Experience Center.
Riding shotgun is chief instructor and veteran Porsche driver Johnny Kanavas. "Break hard!" he shouts as I approach a series of S-bends at a speed that would surely get me ticketed on a public street. And before I'm even through the first bend he's shouting. "Punch it! Hit the gas!" as we accelerate between the bends and out onto a straightaway.
Road Circuit and Drag Strip
Opened last November, the Porsche complex sprawls across what was once a golf course at the junction of the Harbor and San Diego freeways. One of only five similar centers scattered around the planet, the 53-acre site includes the aforementioned road circuit, a see-how-fast-you-can-go drag strip, hilly off-road course to test four-wheel drive capabilities, and three areas to learn and perfect safe driving on slick surfaces.
Away from the track, the center is also the new home to Porsche Motorsport North America, the place where Porsche's technicians, engineers and mechanics prep vehicles for races like the 24 Hours of Daytona, 12 Hours of Sebring and the professional sports car events during Long Beach race week. Visitors can watch action in the garage through big picture windows on one side of the center's atrium, which displays vintage race cars rotated in from the Porsche Museum in Stuttgart, Germany.
Track Side Croissants
And that's not all. In order to make the center a full day experience, there's also a gift shop with all sorts of Porsche gear, a tasty little track-side cafe (the chocolate croissants — flown in daily from Paris — are to die for) and an upstairs gourmet eatery called Restaurant 917 which features the modern California cuisine of executive chef Matt Lee, former food maestro at the Getty Center.
But it's really about the driving, a chance to crawl behind the wheel of a 718 Boxster, Panamera GTS, Cayenne Turbo S, Cayman GT4 or one of the 19 Porsche models available on any given day. The on-track experience is either 90 minute or two hours and runs between $385 to $1,300.
Long Time Coming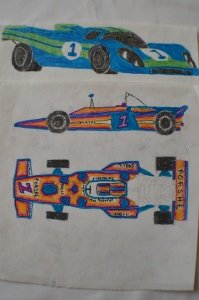 For me it's been a long time coming. Recently digging through a box of elementary school mementos in my attic, I came across drawings I'd done of Porsche race-cars back in the day when Paul Newman and Steve McQueen were racing the German speedsters at Le Mans. And much to my delight, the car that had served as my model — a 240-mile-per hour Gulf Porsche 917K — was on display in the lobby. Instant nostalgia rush.
Like all of the instructors, Kanavas greets me at the front desk and we take a brief tour through the historic speedsters in the atrium before heading out to the track. "I've been a Porsche guy all my life," says Kanavas, a San Clemente resident. "Driven them on the street and in races. But it still gives me a thrill drive one around this track."
Learning How to Tokyo Drift
Not nearly as much of a thrill as I'm about to have. We start with the low friction circle, water-slick surface where Kanavas teaches me how to brake, accelerate and steer my way out an uncontrolled slide into a smooth sideways Tokyo drift. Then it's on to a computer-controlled hydraulic plate that kicks your vehicle sideways — and into a spin — on a wet surface. The one that stumps me is the ice hill, a seven-percent slope around an almost hairpin turn which simulates driving on a super-dangerous icy or snowy roadway. But even so, it's fun doing 360 spins in the 911.
Then its on to the handling circuit, designed not as a race course per se but an undulating country road where you can push the Porsche to its limits. But you're not out there alone — the adrenalin factor shifts into overdrive when there are other drivers making their way around the track at the same time. But that's what I actually like most about the driving experience.
Chasing Rabbits
"You love chasing those rabbits," says Kanavas. And indeed I do, a chance to not only master the road course and my own Porsche, but to run down, come bumper-to-bumper and eventually pass other drivers trying to do the same.
It's addictive . . . and I can hardly tear myself away as the 90 minutes are winding down. But I want to take one last shot at the acceleration track. Running right beside the 405 freeway, the three-quarter mile straightaway ends in the famous Carousel loop at the  Nürburgring racetrack in Germany.
Shifting the car into Sport mode, I use both feet to fully depress both gas and brake pedals at the same time. Releasing the brake, the Carrera takes off like a rocket, the G forces hurling me back into the seat. It takes just eight seconds to reach 105 miles per hour . . . right beside all of those folks stuck in stop-and-go traffic on the 405.