If you didn't catch my interview on NPR live on Monday (July 10th), here the link to the segment on the "Here & Now" website. 
Host Robin Young and myself talked about summer lake vacations and the impact that lakes have had on our respective lives. And I got a chance to plug my Nat Geo "50 States" book — a bestseller in the US and Canada for going on six months since its February publication.
Favorite Lake Vacations
During our chats before the interview, Robin asked me to compile a list of my favorite American lakes in several categories. And these were my thoughts:
Best Lake for Swimming: Lake Mead on the Nevada-Arizona border. Love that warm water. And it's the only lake I know where you can float on your back and gaze up at the walls of the Grand Canyon.
Most Beautiful Lake: Lake Tahoe in winter. Deep blue sky and even deeper blue lake separated by a mantel of fresh white powder.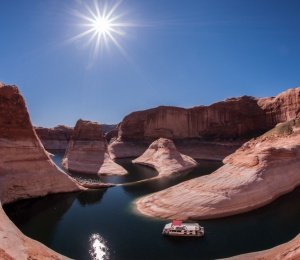 Favorite Lake for History: Lake Champlain, which is shared between Vermont, New York and Quebec province. During both the American Revolution and the War of 1812, battles were fought on and around Champlain that determined the future course of the United States, and by extension, the entire world. It's also got dessert history — the birthplace of Ben & Jerry's Ice Cream (Burlington VT).
Best Lake for Wildlife: A lot of places in Alaska would probably qualify. But my current favorite is Lake Martin in south-central Louisiana where I recently had very close encounters of the gator kind. As well as yellow-bellied slider turtles, feral cats and various waterfowl.
Best Wilderness Lake: Hands down it's gotta be Lake Superior. Remote, wild, edgy, untamed and often dangerous. Great national parks in Isle Royale, Apostle Islands and Pictured Rocks. And that haunting song by Gordon Lightfoot about the Wreck of the Edmund Fitzgerald.
Favorite Small Lakes: Treasure Lake in Oklahoma's Wichita Mountains National Wildlife Refuge and the Trout Glen Pool in Missouri's Ha Ha Tonka State Park.