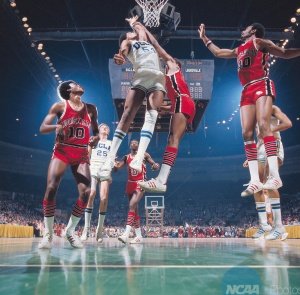 Now this was March madness — Two days before UCLA played Louisville in the 1975 Final Four, I took the entire Cardinal basketball team (including their coaches and several cheerleaders) on a daytrip to Tijuana.
We got stopped by a Mexican cop for driving the wrong way down a one-way street, but managed to talk our way out of a ticket or fine. We ate great Mexican food, did a little souvenir shopping and got everyone back to the hotel in San Diego before team curfew.
What makes this stranger than fiction is the fact that I didn't know any of these people the day before and had no connections whatsoever to Louisville basketball. I was actually a freshman at UCLA, a cub sports reporter on the Daily Bruin. And this was the first time I had ever been out of the country without my parents . . .
Nearly Almost Famous
None of this would have ever happened if I hadn't been the rookie on the Daily Bruin sports desk. The older guys got to cover the Bruins; my assignment was writing about other teams in the Final Four. But having just spent several years working on the same high school newspaper as Cameron Crowe, I was a fully fledged fan of talk-your-way-into-anything journalism. Maybe this wouldn't make me almost famous, but I was going to give it my best shot.
I found out where the Cards were staying — the Sheraton on Harbor Island in San Diego — and knocked on doors until I found star players Junior Bridgeman and Allen Murphy. I explained who I was, what I wanted to do, and without hesitating they invited me in for a chat.
While we were hanging out, Coach Denny Crumb wandered in to discuss their impending "field trip" to Tijuana. And the legendary coach just happened to mention that he wasn't quite sure how to get there. "I can show you!" I blurted out. That's how an 19-year-old kid from UCLA wound up leading the entire Louisville basketball team into a foreign country just 48 hours before what was then the biggest game in Cardinal history.
1964 Dodge Dart
Somehow I managed to fit three very large human players (Bridgemen, Murphy and Danny Brown) and two Louisville cheerleaders into my 1964 Dodge Dart. And with the rest of the team following in two coach-driven rental cars, we cruised down Interstate-5 to the Mexican border.
Two days later, UCLA beat Louisville 75-74 in overtime in one of the epic games of Final Four history. The Bruins then defeated Kentucky in the championship game for the last of John Wooden's ten national titles. Keeping with my original assignment, I interviewed the downtrodden Cardinals after the game and they were just as gracious in defeat as when I first knocked on their hotel room door.
Never Happen Now
It goes without saying that something like that could never happen nowadays. Not just the crazy trip down to Mexico or that kind of sportsmanship, but also the fact that all of us could leave the country (and get back in) without passports. Simpler, more laidback times. And really not that long ago.
Bridgemen went on to play a dozen years in the NBA with the Milwaukee Bucks and LA Clippers and is now worth an estimated $600 million thanks to his timely investments in several restaurant chains. Murphy played for the LA Lakers; Brown is a very successful high school basketball coach in his native Indiana.
And me? Going forward, the episode certainly boosted my journalistic confidence. And having the chutzpah to venture into a foreign country on my own certainly sparked my lust for exotic wanders. My road to that Final Four just kept on going.